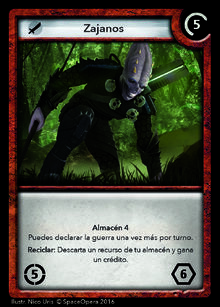 Descripción
Los zajanos son seres que han nacido para matar. Se desconoce si alguna vez alguien se ha encontrado con uno a solas, probablemente nadie haya sobrevivido para contarlo. En su cultura, si no eres cazador, no eres ciudadano. Sus técnicas de caza son temidas en toda la galaxia. Existe un dicho que significa lo mismo en muchas lenguas de especies diferentes: El zajano se asegura de que el muerto esté bien muerto.
Número de individuos por tropa: entre 1 y 2 millones.
Características
Iniciativa: 5
Almacén: 4
Clase: Guerrera.
Resumen de su historia
Los Zajanos fueron la última civilización que realizó su primer salto unas décadas antes que se propagase La Plaga. Cuando los zajanos aparecieron en escena la galaxia estaba en guerra; los Simians enfrentados a los Machina Sapiens, los Calderanos contra los Razors y demás trifulcas. Para los zajanos fue una gran alegría poder hacer la guerra y se apuntaron al festín. Durante décadas atemorizaron a todas las demás especies.
Cómo jugarla
Al poder declarar la guerra dos veces por turno, no requiere gran cantidad de militares para causar grandes daños. Ataca siempre que tengas ocasión, si la especie atacada puede defenderse no podrá volver a hacerlo la segunda vez. Intenta obtener suficiente beneficio de la guerra para poder construir tecnologías.
Relatos relacionados
Ad blocker interference detected!
Wikia is a free-to-use site that makes money from advertising. We have a modified experience for viewers using ad blockers

Wikia is not accessible if you've made further modifications. Remove the custom ad blocker rule(s) and the page will load as expected.