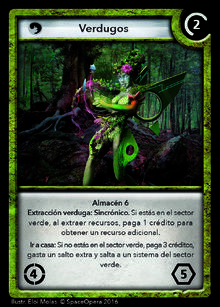 Descripción
Los verdugos son seres vegetales que hacen la fotosíntesis. Son una simbiosis vegetal auto-consciente compuesta de cuatro tipos de plantas, dos tipos de hongos y un alga. Conocen al detalle los sistemas del sector verde, lo que les permite extraer recursos de manera óptima en él.
Número de individuos por 
tropa
: entre 200 y 500 millones.
Características
Iniciativa: 2
Almacén: 6
Clase: Reproductora.

Extracción verduga: Sincrónico. Si estás en el sector verde, al extraer recursos, paga 1 crédito para obtener un recurso adicional.

Ir a casa: Si no estás en el sector verde, paga 3 créditos, gasta un salto extra y salta a un sistema del sector verde.
Resumen de su historia
Los verdugos son una simbiosis de seres del reino vegetal que evolucionó en algún sistema estelar del sector verde. Deben volver a su lugar de origen pues necesitan la luz y energía que emiten las estrellas de su sector para reproducirse eficazmente. Creen en la reencarnación y por lo tanto poseen una gran capacidad de sacrificio individual en pos del bien común.
Cómo jugarla
Esta especie posee un potencial excelente recolectando recursos, por lo que puedes maximizar fácilmente las posibilidades de obtener tropas extra. Su capacidad para volver a un sistema estelar de un sector determinado siempre que quiera supone una ventaja táctica en ciertos momentos de la partida. Intenta construir tecnologías que te permitan hacer más saltos.
Ad blocker interference detected!
Wikia is a free-to-use site that makes money from advertising. We have a modified experience for viewers using ad blockers

Wikia is not accessible if you've made further modifications. Remove the custom ad blocker rule(s) and the page will load as expected.