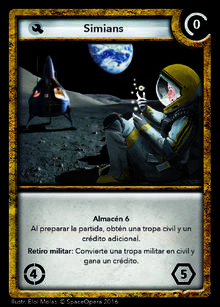 Descripción
Tienen la extraña habilidad de hacer económicamente rentable aquello que no lo parece energéticamente. Su aspecto es de simios erguidos y con poco pelo, de ahí el nombre con el que son conocidos en la galaxia.
Número de individuos por tropa: entre 500 y 1000 millones.
Características
Resumen de su historia
La historia de los simians está ligada a la de los Machina Sapiens, pues de algún modo los simians son sus creadores. Descubrieron el salto interestelar en unas ruinas de los antiguos Reptilianos y gracias a la colaboración de los machina sapiens, sin ser conscientes aún de la existencia de estos últimos. Siempre intentan ir un paso por delante de sus rivales.
Cómo jugarla
Probablemente seas el primero en jugar, aprovecha esta ventaja y sorprende a tus adversarios. Tu habilidad supone una gran ventaja durante los 3 primeros turnos, pero luego se diluye. Juega fuerte en fases iniciales. Si en tu primera mano no tienes nada para construir que te dé ataque o defensa, entrena militares pronto y protege tus tropas, pues si te las matan pierdes tu ventaja.
Relatos relacionados
Ad blocker interference detected!
Wikia is a free-to-use site that makes money from advertising. We have a modified experience for viewers using ad blockers

Wikia is not accessible if you've made further modifications. Remove the custom ad blocker rule(s) and the page will load as expected.