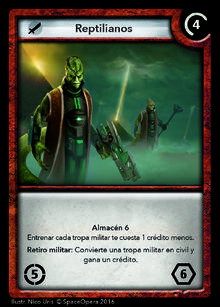 Descripción
Los reptilianos son seres muy disciplinados. Cuando son crías todos reciben una pequeña formación militar, de manera que cuando hay necesidad les cuesta muy poco preparar a su población para la guerra.
Número de individuos por tropa: entre 200 y 500 millones.
Características
Iniciativa: 4
Almacén: 6
Clase: Guerrera.

Retiro militar: Convierte una tropa militar en civil y gana un crédito.
Resumen de su historia
Huyeron de su planeta de origen por el inminente impacto de un asteroide, que provocó una extinción masiva de especímenes de otra familia biológica, la extinción de los dinosaurios. Fueron los primeros en contactar con los Simians tras su primer salto y fueron quiénes les desvelaron la existencia de los Machina Sapiens.
Cómo jugarla
Para aprovechar bien las habilidades de esta especie, dedícate a entrenar militares sabiendo que obtendrás beneficio siempre que puedas. Intenta rentabilizar la economía de la guerra. En algún caso te convendrá militarizar, declarar la guerra y, después, volver a convertir tus militares en civiles para no perder potencia económica frente a otras especies.
Relatos relacionados
Ad blocker interference detected!
Wikia is a free-to-use site that makes money from advertising. We have a modified experience for viewers using ad blockers

Wikia is not accessible if you've made further modifications. Remove the custom ad blocker rule(s) and the page will load as expected.