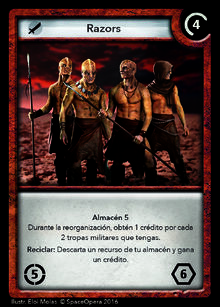 Descripción
Los razors son seres capaces de vivir cientos de años. Durante su larga vida, en un momento u otro, todos han luchado en guerras y también trabajado para conseguir recursos, por lo que son seres muy versátiles. Nunca se ha visto a un razor bebé o joven. Suelen organizarse militarmente y no dudan a la hora de actuar, pues por sus años de experiencia saben que hay que estar preparado para el devenir.
Número de individuos por tropa: entre 5 y 10 millones.
Características
Iniciativa: 4
Almacén: 5
Clase: Guerrera.

Durante la reorganización, obtén 1 crédito por cada 2 tropas militares que tengas.

Reciclar: Descarta un recurso de tu almacén y gana un crédito.
Resumen de su historia
Los razors junto con los Calderanos y los Verdugos, son una de las especies más antiguas de la galaxia. Por algún motivo, guardan cierto rencor hacia los Calderanos y están constantemente en guerra.
Cómo jugarla
La ventaja de esta especie es que puede entrenar militares sin perder tantos ingresos como otras especies. Intenta militarizar tus tropas de dos en dos para aprovechar tu ventaja. La rebelión civil puede ser extremadamente dañina para ti. Combate esto conservando algún recurso que anule consumibles o haciendo que la mayoría de tus tropas sean militares.
Ad blocker interference detected!
Wikia is a free-to-use site that makes money from advertising. We have a modified experience for viewers using ad blockers

Wikia is not accessible if you've made further modifications. Remove the custom ad blocker rule(s) and the page will load as expected.