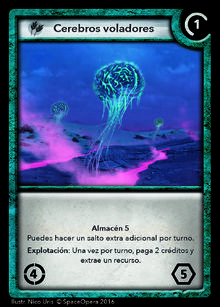 Descripción
Los cerebros voladores son seres muy evolucionados que han llegado a la mínima expresión física, siendo únicamente cerebros que vuelan. Eso les permite ser uno de los seres conocidos más veloces, saltando a otros puntos de la galaxia en mínimos espacios de tiempo. Son seres etéreos poseedores de una gran sabiduría.
Número de individuos por tropa: entre 10 y 20 millones.
Características 
Resumen de su historia
Se sabe muy poca cosa de la historia de los cerebros voladores antes de que realizaran su primer salto. Todos ellos coinciden en su explicación. Por lo visto, en el mismo momento en que trascendieron su cuerpo físico saltaron a un nuevo sistema estelar. Desde entonces son una civilización más que viaja por la galaxia.
Cómo jugarla
Esta especie posee un potencial excelente haciendo saltos y recolectando recursos. Hace muy buena sinergia con tecnologías que bonifiquen el salto extra. Además, si no te interesa saltar puedes extraer un recurso por turno sin necesidad de moverte. En total puede extraer tres recursos por turno sin aplicar ningún otro efecto.
Ad blocker interference detected!
Wikia is a free-to-use site that makes money from advertising. We have a modified experience for viewers using ad blockers

Wikia is not accessible if you've made further modifications. Remove the custom ad blocker rule(s) and the page will load as expected.