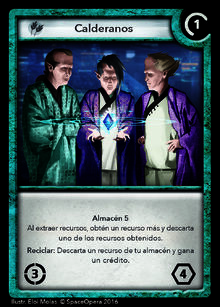 Descripción
Los calderanos son seres sumamente racionales y que desean convivir en paz con la galaxia y los seres que la pueblan, aunque ello no significa que no participen en guerras. Su gran inteligencia les permite encontrar la solución más eficaz en la mayoría de las situaciones.
Número de individuos por tropa: entre 10 y 20 millones.
Características
Iniciativa: 1
Almacén: 5
Clase: Recolectora.

Reciclar: Descarta un recurso de tu almacén y gana un crédito.
Resumen de su historia
A diferencia de la mayoría de especies el descubrimiento del salto no fue fruto de una necesidad vital. En su caso, lo desarrollaron porque era lo más lógico.
Cómo jugarla
Esta especie posee un potencial excelente recolectando recursos, sácale provecho haciendo un salto siempre que puedas. Usa cartas que te permitan extraer más recursos e intenta hacerte una mano mejor que la de las demás especies. Tu ataque y defensa inicial son bajos así que intenta reforzarlos en los primeros turnos.
Ad blocker interference detected!
Wikia is a free-to-use site that makes money from advertising. We have a modified experience for viewers using ad blockers

Wikia is not accessible if you've made further modifications. Remove the custom ad blocker rule(s) and the page will load as expected.