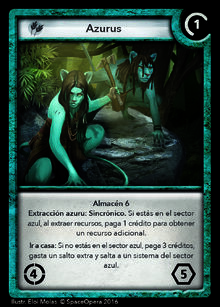 Descripción
Genéticamente similares a felinos pero de colores azules. Conocen al detalle los sistemas del sector azul, lo que les permite extraer recursos de manera óptima en él. De hecho, el sector azul debe su nombre a esta civilización.
Número de individuos por tropa: entre 50 y 100 millones.
Características
Iniciativa: 1
Almacén: 6
Clase: Recolectora.

Extracción azuru: Sincrónico. Si estás en el sector azul, al extraer recursos, paga 1 crédito para obtener un recurso adicional.

Ir a casa: Si no estás en el sector azul, paga 3 créditos, gasta un salto extra y salta a un sistema del sector azul.
Resumen de su historia
Los Azurus descubrieron el salto interestelar haciendo un esfuerzo por salvar a su especie de una extraña plaga. Unos parásitos invadieron su mundo y, en su huida, dejaron a muchos de los suyos atrás. Su mundo está en un sistema estelar del sector azul y su obsesión por no abandonarlo está más que justificada. Nunca podrían abandonar definitivamente a los suyos.
Como jugarla
Esta especie posee un potencial excelente recolectando recursos, sácale provecho saltando siempre que puedas. Su capacidad para volver a un sector determinado siempre que quiera supone una ventaja táctica en ciertos momentos de la partida. Intenta construir tecnologías que te permitan hacer más saltos.
Relatos relacionados
Ad blocker interference detected!
Wikia is a free-to-use site that makes money from advertising. We have a modified experience for viewers using ad blockers

Wikia is not accessible if you've made further modifications. Remove the custom ad blocker rule(s) and the page will load as expected.